"Be an influence for good."
What does this phrase mean to you?
To me, it implies the importance of saying kind words, doing good deeds, and trying to be a positive example, as much as possible. Obviously no one is perfect, but we can try to be our best selves. We can try to bring positivity and light into the world through our actions and words.
As a blogger, I hope that I influence people out in the world.
I hope that when people visit my blog they gain an extra sense of peace or joy or fulfillment.
I would love for my words to reach out and touch the hearts of hundreds or thousands of people, but I am content even if I only reach one person.
I can be an influence for good, whether great or small.
You can be an influence for good everywhere: in your homes, at your workplace, at your church, and in your neighborhood associations. Be that person who looks to spread warmth and cheer, especially as we enter into the Thanksgiving and Christmas holiday seasons.
Spread the compliments, lend a listening ear, spend time with the lonely.
Whether you help the one or the many, be an influence for good in the world.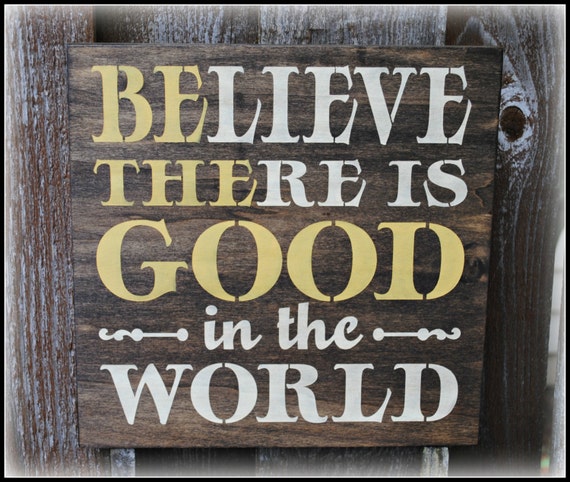 https://www.etsy.com/listing/158142158/believe-there-is-good-in-the-world?ref=sr_gallery_6&ga_search_query=believe+there+is+good&ga_ref=auto1&ga_search_type=all&ga_view_type=gallery
Labels: Emotional Health, Happy Tidbits